News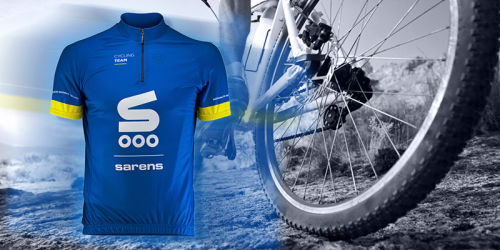 SARENS CYCLING GEAR
Two pieces of cycling clothing of the highest quality are now available! A blue cycling shirt of the newest standard and a grey short with white straps are now for sale. Both pieces feature the updated brand style and are finished with yellow markings.
The Bib shorts are held up by braces instead of an elastic waistband to provide optimum comfort. The cycling pants suit every cyclist perfectly. Whether you are very tall or heavier than average, these Bib shorts will fit you like a glove. The special fabric and silicone leg grippers provides muscle support and a comfortable feeling, even after hours of cycling.
The blue shirt is made of wicking fabric that keeps your cool and dry, and the elastic sleeves and silicone grippers will keep you comfortable the whole bike ride. On the back are 3 pockets that will give enough space for all your provision, so you don't need to stop for food or to take a sip of water.
Features
Sizes: M, L, XL, XXL, XXXL
Light weight and durable fabric with a 50/50 blend of hydrophobic fibers and micro-polyester to evaporate perspiration quickly
Silicone grips and paddings